Cardamom Extract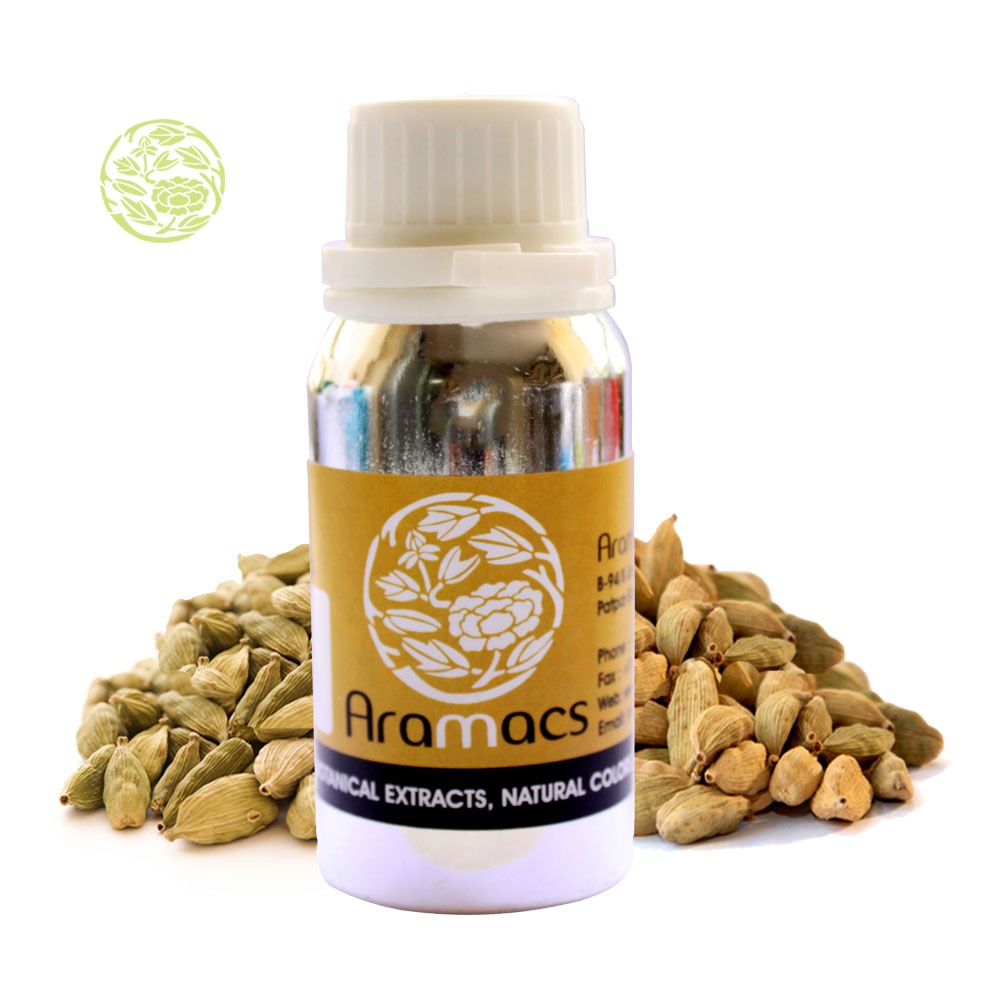 English name: Cardamom Extract
Botanical name: Elettaria cardamomum
Introduction
Cardamom Co2 Oleoresin is a deep yellow in colour and is very rich oil with intricate sweet-spicy aroma similar to that of the freshly crushed cardamom seeds. It is far more superior to that of steam distilled Cardamom essential oil which is pale in colour with a comparatively flat aroma. Cardamom oil has a very long history of use in medicine and perfumery. It is also known as an aphrodisiac, and is used extensively in cosmetics and perfumery to add a warm, fresh, and stimulating quality. Cardamom Co2 oleoresin is one of popular spice oils for use in blending essential oils.
Full Bodied Oil
It is widely used in aromatherapy for digestive complaints, poor appetite, for boosting digestion, treatment of lung conditions and mental fatigue. Cardamom Co2 oleoresin has a warm and spicy aroma with woody balsamic undertones. It is full bodied oil and is true to the spice cardamom. It blends well with other spice, citrus and floral oil and is an ideal extract to treat digestive problems, loss of appetite, coughs and muscle aches. It is also considered as an effective aphrodisiac. The country of origin of cardamom Co2 oleoresin is Germany and its INCI name is Elettaria cardamomum.
Botanical Name
The botanical name is Elettaria cardamomum and the plant parts used for extractions are the seeds. The extraction method used is SCFE and cardamom has its origin in India. Cardamom grows wild and is cultivated widely in India and Sri Lanka. The plant grows up to about 4 metres and has small yellow flowers with a violet tip. The colour of the fruit is gray which follow the flowers containing many seeds. Cardamom is used for digestion and as a laxative it relieves colic, wind, dyspepsia and nausea caused by pregnancy. It can be used as massage oil or can be diluted in bath also. It aids digestion, coughs and can also be used as a general tonic.
It is widely used in aromatherapy treatment and also as a food ingredient. The consistency of the oil is light and the aroma strength is quite strong. Cardamom oil blends well with Orange, Rose, Bergamot, and Cinnamon, Cloves, Caraway and Cedar wood. It has aromatic scent which is spicy and a sweet fragrance. Cardamom has been in use since ancient times and Egyptians used it perfumes, incense and also for teeth whitening. Romans used cardamom for digestion after eating heavily and Arabs grounded it and mixed with coffee. Cardamom has always been an important food ingredient in Asian cuisines.
Easy to Extract
Cardamom Co2 oleoresin is extracted using the Co2 method and it is quite easy to extract cardamom. The extract taken out using this method has quality components like oil, pigments like cholorophylls and carotenoids, volatile constituents, fatty acids and tocopherols. The extracts taken using the Co2 method have maximum level of natural pigments and antioxidants. The main chemical components of cardamom oil are a-pinene, b-pinene, sabinene, myrcene, a-phellandrene, limonene, 1,8-cineole, y-terpinene, p-cymene, terpinolene, linalool, linalyl acetate, terpinen-4-oil, a-terpineol, a-terpineol acetate, citronellol, nerol, geraniol, methyl eugenol and trans-nerolidol.