Fennel Seed Extract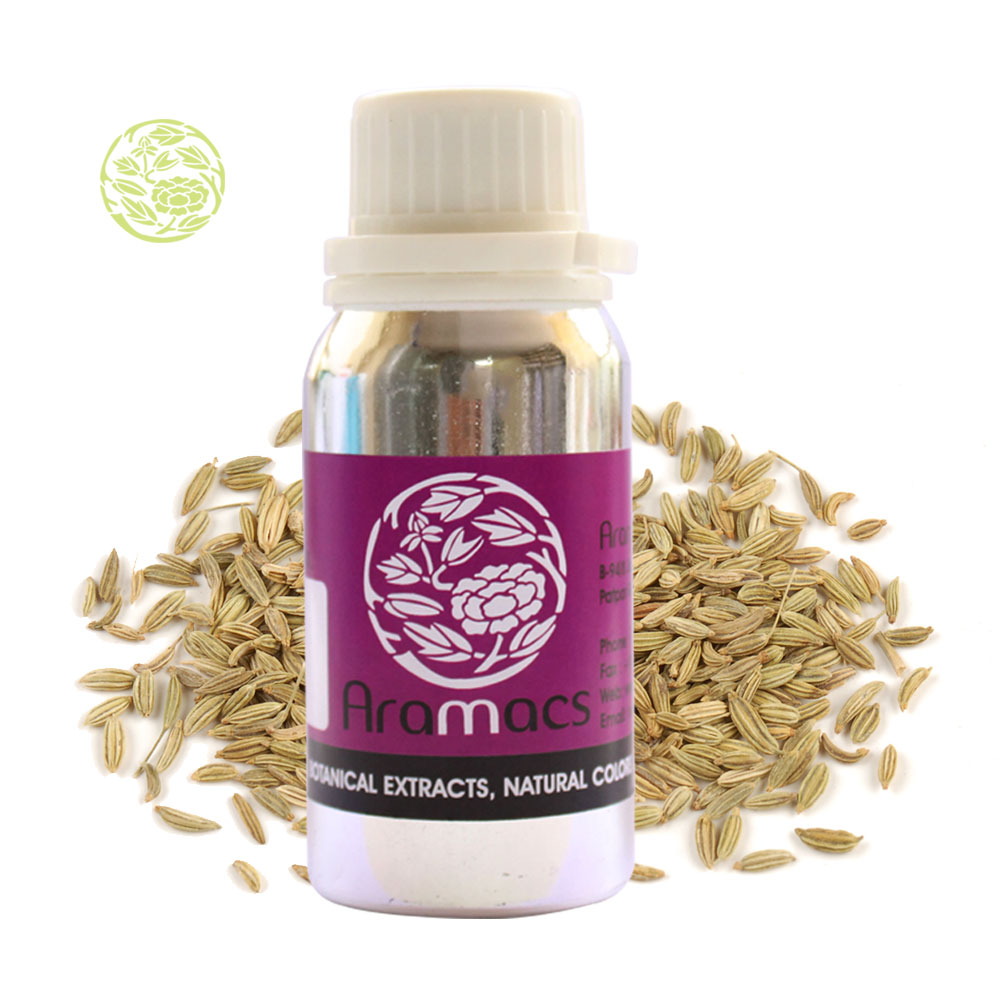 English name: Fennel Seed Extract
Botanical name: Foeniculum vulgare
Introduction
The botanical name of Fennel is Foeniculum vulgare amara and the plant part used for extracting oil is the seed. The extraction method is SCFE and the country of origin of Fennel seed Co2 oleoresin is Spain. Fennel is an erect growing perennial herb which is a native to southern Europe and the Mediterranean area. The plant reaches a height of approximately 4.5 feet and the colour of its flowers are yellow. The colour of the oil is clear to pale yellow and the fennel seed Co2 oleoresin is known for its properties. This extract is an antiseptic, expectorant, carminative, diuretic, laxative, stimulant and stomachic. It is also a refreshing, motivating and warming liquid.
Medium Aroma
The consistency of the fennel seed Co2 oleoresin is light and the note, top. It has a medium aroma and it has a spicy, sweet and woody scent. Fennel is an herb of historical importance and is believed to encourage longevity, strength and courage. Romans used it in abundance because of its digestive properties and Greeks believed it to be a slimming herb. The extract may cause skin irritation so it is advisable to use it well diluted and also avoid using it in direct sunlight and if pregnant.
Digestive Aid
Fennel comes from the parsley family of plants (Apiaceae or Umbeliiferae) and the production oil happens mainly in Spain and Australia. Fennel oil is extracted from the dry seeds and the seeds are used as a digestive aid and it balances menstrual cycles, strengthen eyesight and neutralize poisons. Fennel seed oil supports circulation of blood, glandular, respiratory and digestive systems. Fennel has been in use from ancient times for spiritual and emotional support. Spirituality warriors thought that fennel gave them courage and strength in battle and longevity. In the Medieval Age fennel was used to block spells and ward off evil spirits and witches.
Culinary Purposes
Fennel seed Co2 Oleoresin energizes and balances and support feeling of well being during the menstrual cycle. In the Mediterranean cuisine fennel is used for culinary purposes. There are many species of fennel including poisonous hemlock which is not an edible plant. So it is important to buy the oil using the common name and genus species. Fennel and anise are composed of the ether anethole and this makes them identical for use in aromatherapy. The name fennel is derived from the Latin word" Fenum" which means "hay". The ORAC value of Fennel is 238,400 µTE/100g and the ORAC value provides you the antioxidant capacity of a food item.
Apart from the primary benefits of Fennel seed Co2 Oleoresin like relieves indigestion, cure digestive trouble, eases monthly menstrual cycles, support healthy lymphatic system and clams minor skin irritation, this extract is known for its support for emotional and spiritual relief. This is the ideal oil for a person struggling with self-doubt, low self-esteem, and lack of motivation, accountability or stubbornness. It helps the person help them live in alignment with the values and integrity. It supports stamina and longevity by strengthening the solar plexus.
Coriander Seeds
Benefits
It is the perfect medicinal oil for flu, colds and wintertime blues. The oil is used perfectly in bath blends and products for body care for men. Harmonious blends are made with sandalwood, frankincense and black pepper especially.
In aromatherapy, the oil is used in treating flu, anorexia, flatulence, colds, arthritis, gout, colic, infections, stiffness in muscles, migraines, nausea, pains, aches, rheumatism, nervous exhaustion and neuralgia. As far as general use is concerned, it is used as massage oil, in oil burners, oil warmers, potpourri, perfume, natural incense, bath salt, bath oil, oil in spa treatments, shower gels, candle making, soaps and creams.
Other Benefits
It is used as a relaxant, for anti aging and in ayurvedic medicine. Skin blemishes can be relieved when blended with turmeric and used. Coriander oil scent is relaxing and warm and listed as a great stimulant. It eases indigestion, stimulates appetite and relieves neuralgia.
It has anti inflammatory and antispasmodic properties. To provide relief to aching muscles all that you need to do is gently rub it on the affected area. It makes an excellent chest rub. To make a perfect perfume blend for daytime use, mix it with essential oils like orange and vetiver. Without sedating, it gives a soothing and calming effect. It helps in uplifting and refreshing the mind, relieves tension, fatigue, nervous weakness and glandular system revitalization.
Guarantee
It is best to refer to the label affixed and ingredients before using the coriander oil. Studies indicate that there are no known contra-indications on coriander oil use. However if used in large doses, the effect could be stupefying! In fact taking advice of a good healthcare professional will surely help before considering coriander oil use.