Green Coffee Bean Extract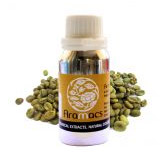 English name: Green Coffee Bean Extract
Botanical name: Coffea robusta
Introduction
To obtain green coffee bean extract in its purest form the SCFE Co2 supercritical extraction process is used. Coffee beans are found inside a big red colored berry with green seeds inside. Unroasted seeds are used for creating green coffee bean extract. They are soaked first after which they are concentrated to obtain the extract by the SCFE Co2 supercritical extraction process.
Purity
Green coffee bean extract contains many compounds but chlorogenic acid chemical contained in it has profound benefits on health. Since the coffee beans are not roasted the antioxidant content remains retained in them. As compared to the traditional method of obtaining the extract, this is the latest one to get green coffee bean extract in its purest form.
The final product obtained by this method does not contain any additives, fillers, solvents or residue. If it has to be purchased, make sure that it is purchased from a reliable source only.
Benefits
Green coffee bean extract has amazing good performance and health related benefits. It has the potential for fighting off fat. It is popularly used as a supplement for fat loss and weight loss. Metabolism and blood sugar are well maintained with consumption of this extract. If taken daily it can give weight loss an enormous boost. In the market it is one of the top products sold for weight loss.
Green Coffee Bean
It is an excellent herbicide and pesticide and sprayed on crops. It also slows down sugar release into the blood stream and burns fat and sugar both. This pure extract contains zero binders, zero fillers and zero artificial ingredients due to which its potency remains well maintained. Top quality beans are used in creating this extract. Try finding out real customer reviews to get an idea whether it is a perfect and genuine extract to select.
Other benefits
Green coffee bean extract has the lowest risk of causing type II diabetes. It ensures healthy aging by maintaining proper balance of sugar in the body. Chlorogenic acid is the main antioxidant in the extract which inhibits G6P enzyme release and stabilizes levels of blood sugar.
This, in turn, leads to better functioning of hormones, better mental clarity and energy, capacity for detoxification and weight loss. The extract can be used with cinnamon, cacao and other superfoods for stabilizing overall functions of the body. It is a natural source of energy too. By nature, coffee can suppress appetite.
Guarantee
As far as side effects are concerned, there are none. However it is always good to consult a good healthcare professional before taking the green coffee bean extract. If a person has any medical conditions then the doctor must be consulted before taking this extract. Breastfeeding and pregnant women and children must also consult a doctor first. It has the ability to lower blood pressure and blood sugar and hence people suffering from hypertension, diabetes or hypoglycemia should consider the doctor's advice. If green coffee bean extract is taken in excess it could lead to allergic reactions, elevated blood pressure, affect blood vessels and cause rapid heartbeat. If in case the person is allergic to caffeine or coffee, it is best to avoid it.