Marigold Extract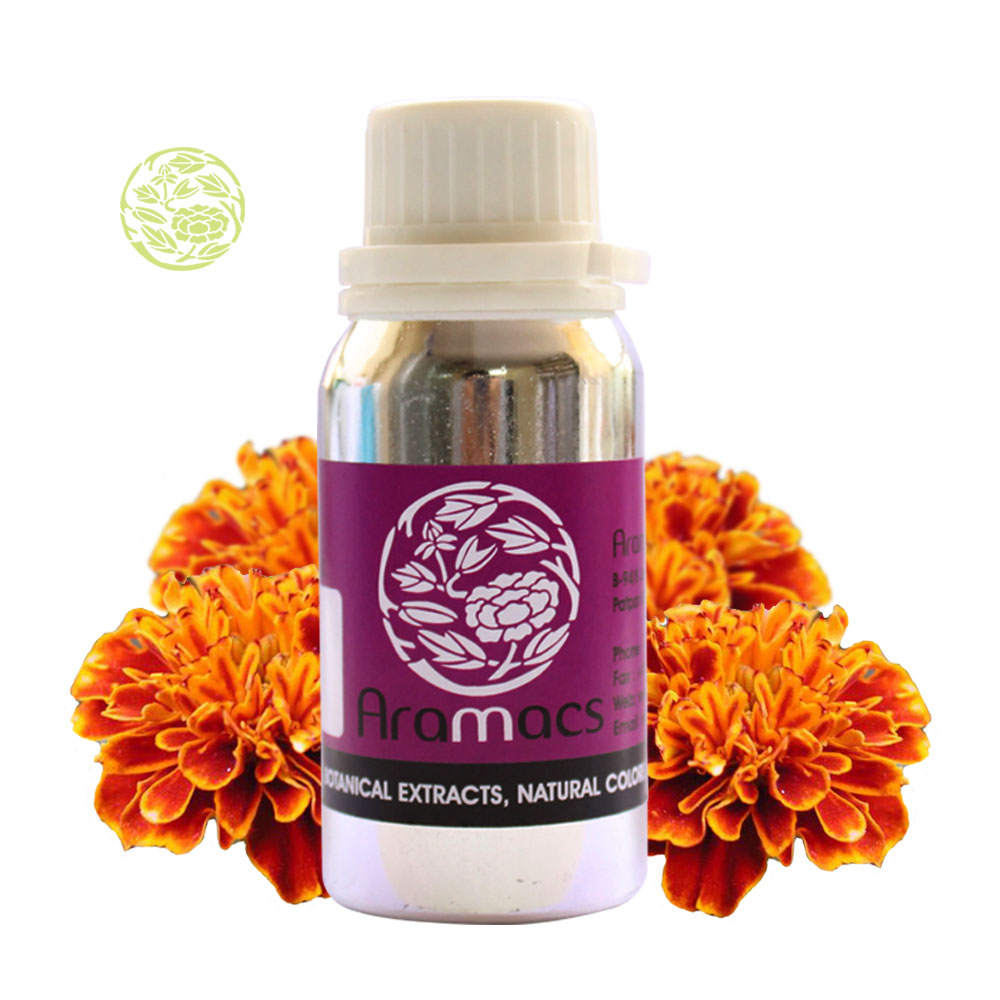 English name: Marigold Extract
Botanical name: Tagetes erecta
Introduction
Marigold extract is made from the common marigold or Calendula Officinalis. The SCFE Co2 supercritical extraction process is used in obtaining pure marigold extract. The resulting oil is pure, solvent free, pesticide free, has desired viscosity and lower surface tension as compared to traditional methods.
Purity
Marigold extract contains carotenoids, lutein, zeaxanthin and flavonoids in a high content. It is known to have antispasmodic properties, antiseptic, antifungal, anti inflammatory, anti infective, anti cancer and calming properties. It contains a sesquiterpene glucoside, saponins, triterpene glycosides or the oleanane type, triterpene oligoglycosides and glycosides.
Flavonoids have antioxidant properties and offer protection against cell damaging free radicals. The saponins and glycosides present in marigold extract aid cleansing and contain antiseptic agents, promote healing and soothes irritated tissue.
Benefits
Since centuries marigold extract has been used for medicinal purposes. It has been used for treating wounds, conjunctivitis, sprains, blepharitis, minor injuries, eczema, warts, gastritis, sunburns, minor burns, snake bites, coughs and menstrual cramps since centuries. As far as eye treatment is concerned, it is used traditionally for reducing eye infections, redness and swelling in the eyes, conjunctivitis and eye inflammations of other kinds. It has a range of pharmacological properties.
It improves flow of blood to the affected area due to its anti septic properties. External and internal ulcers can also be healed with marigold extract. Chemicals and flavonoids present in it act as an antioxidant in the body to help protect the body from oxidation which is a chemical process. Oxidation is harmful to the body and hence marigold extract is useful in producing natural chemicals and oxygen free radicals for suppressing immune functions.
Other Benefits
In the making of natural products for skin care, it is an important ingredient to treat acne prone sensitive, irritable and dry skin. By stimulating skin cell metabolism it helps in advancing regeneration of skin. The extract also helps in promoting healing of wounds, reducing inflammation, treating skin diseases, skin ulcerations, dry phthiriasis and juvenile acne. The extract is used for making creams that are good for nappy rash.
An infusion with the oil is made for relieving menopause symptoms, colitis and indigestion. It works excellently as an antifungal agent in the treatment of candida, ringworm, athlete's foot. To encourage healing and cold sores, marigold extract tincture can be applied. It promotes collagen protein production and treats haemorrhoids. Less pain from radiation is experienced with the use of marigold extract. To soothe tissues in the mouth and sore throat, gargles and mouthwashes containing marigold extract can be used. Studies and research conducted on this extract indicate that is has great immune system activity. Studies also state that it has anti-HIV activity as well.
Guarantee
It is best to consider marigold extract use under the guidance of a good healthcare professional. If taken in excess, it could lead to side effects and hence one must ensure moderate use. Pregnant and nursing women and children should not be given marigold extract products without the advice of a doctor.