Nutmeg Butter Extract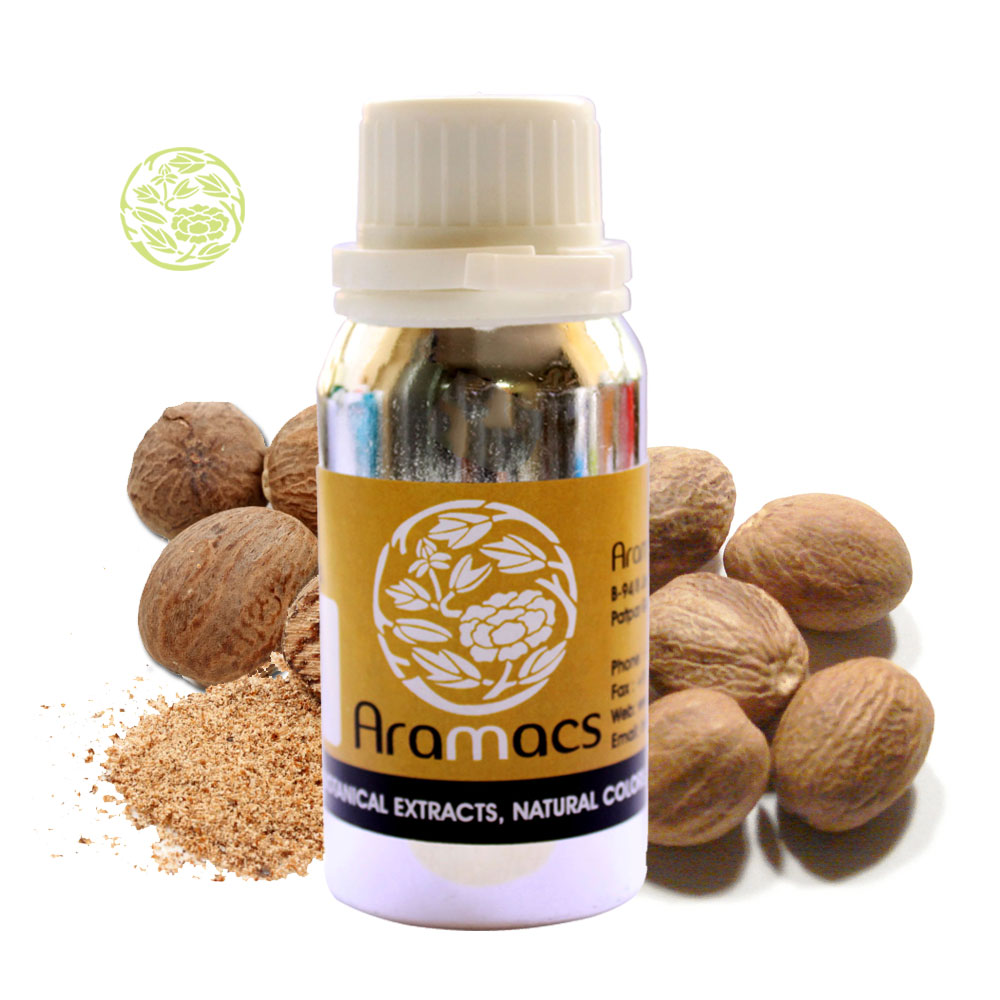 English name: Nutmeg Butter Extract
Botanical name: Myristica fragrans
Introduction
Nutmeg Co2 extract which has a botanical name called Myristica fragrans is obtained from the evergreen tree which grows up to 200 metres. The plant parts used for extraction of the oil are the seeds and the extraction method used is SCFE super critical fluid extraction. The exterior husk of the fruit is dehydrated and used for extracting mace essential oil and the seed for nutmeg essential oil. Nutmeg has been in use as a domestic spice for centuries and is still considered as a remedy mainly for digestion and kidney related problems. The colour of the extract is clear pale yellow and the consistency is thin. It has a middle note and the strength of aroma is medium to strong.
Blends Well with
Nutmeg Co2 extract is commonly used for health conditions like arthritis, constipation fatigue, muscle pain, nausea, neuralgia, poor blood circulation, rheumatism and it also improves digestion. Nutmeg Co2 extract is widely used in food flavouring and it has a spicy, woody, sweet and warm aromatic odour. Nutmeg Co2 extract blends well with lavender, rosemary, orange, sage, clary, geranium, clove and other spices. The extract is widely used in many aromatherapy blends because it adds warmth and spice to the mixture. Nutmeg is widely used by Indian for treating digestive problems and Egyptians use it for embalming the dead and Italians had used it during the Plague.
No Excess Dosage
The extract should not be taken in large dosage because it shows symptoms of nausea and tachycardia. The product should not be used during pregnancy. Excess dosage of the extract will boost the brains and heart and may cause hallucinations and convulsions. The extract is mental stimulant but not a relaxer if used in excess. The stimulating action of the Nutmeg provides help in asthenia which is loss of physical strength and debility. It can also be blended for treating gout, arthritis and rheumatism.
Nutmeg Co2 extract contain no solvent and it is ideal to drop to ½ cup of honey for flavouring food. The extract blends well with sweeter citrus oils, with other spices, petigrain, ylang ylang etc. This warm and spicy extract is used in massage blend as an energizing muscular tonic and is ideal in exotic perfumes and holiday blends. It contains myristicin and little amount of safrole and fatty oil. Apart from the use of the extract in food industry it is also used in perfumery and pharmaceutical industry as stomachicum, stimulans, carminativum and massage oil
Common Health Conditions
Nutmeg Co2 extract has many uses for common health conditions like curing bad breath, as massage oil, as a good sleeping aid, excellent stimulant, effective detoxifying agent, and as a popular flavouring agent. Nutmeg oil when used as a gargle helps one from the issues of bad breath and it helps remove toxins from the gut which is generally the cause of bad breath. The extract works perfectly as a sedative and provides calming effect by relieving stress and anxiety related problems. It removes the toxins from kidney and liver and helps dissolve kidney stones and uric acid.