Amaranth Seed Oil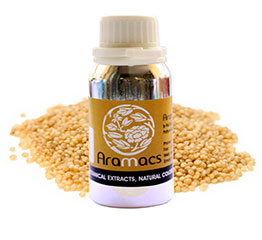 English name: Amaranth Seed Oil
Botanical name: Amaranthus cruentus
Introduction
Amaranth plant has been cultivated and used since prehistoric times and is considered as a medicine for anti-aging in Europe. The plant is considered sacred by the Incas and Aztecs. It is a popular medicine used for skin care and is light and easily absorbed oil. Amaranth seed Co2 oil is rich in polyunsaturated fats is popularly used as a preventive medicine for sagging, aging skin and mature skin. It is widely used for dry and irritated skin, itchiness caused by the harsh winter. This must one of the reasons why this oil is popular in Russia because of its long and extremely cold winter. Amaranth seed Co2 oil can be added without heating any skincare remedy like hand or facial lotions, liquid castile soap, or unscented shower gel.
Nutrient Rich
Amaranth seed co2 oil is clear yellow oil which is nutrient rich in polyunsaturated fatty acids, plant sterols, tocopherols and squalene. It contains lipohilic components and it is extracted from Amaranthus Caudatus and it does not contain no solvent residues, no inorganic salts and no heavy metals. Amaranth seed Co2 oil has calming properties and is useful in skin soothing formulas. It has the qualities of improving the skin elasticity and it reduces the sight of wrinkles. The oil has a slightly fruity and earthy aroma and it limit the loss of water from the skin. The oil is rich in omega 6 and is considered a very good moisturizer. It contains Oleic Acid (Omega 9) – 25-35%, Linoleic Acid (Omega 6) – 42-52%, Squalene – 5%+, Plant Sterols – 2%+, Tocopherols – 1%. This yellow clear oil's INCI name is Amaranthus Caudatus Seed Extract and its shelf life is about one year in closed pack under cool storage conditions and exclusion of light.
Oldest Domesticated Plant
Amaranthus caudatus is considered as one of the oldest of world's domesticated plants and Amaranthus is a Greek word which means "immortal" or "unfading". It comes from the foxtail family and is referred to as "pseudo cereal". The grains of amaranth are just about the size of mustard seeds and are found commonly ground into flour. Amaranth seed Co2 oil has strong skin nourishing properties and is also a strong antioxidant and anti-inflammatory oil. It contains Squalene which is good for many skin problems like topical dermatitis and psoriasis. When combined with other ingredients it can help aid skin healing and prevention of scars. Amaranthus seed Co2 oil is an excellent additive and when used in .05 to 3% it provides important useful ingredients to preserve skin quality.
For Dry and Damaged Skin
For ages amaranthus was considered as a healthy grain food and off late the oil which is rich in unsaturated fatty acids and squalene is considered as an excellent skin care product. It contains tocopherols and tocotrienols which are good for the human skin. It is excellent oil for dry and damaged or aging skin and is rich in natural alpha, beta and delta tocopherols (vitamin E complex) and essential omega-6 fatty acids. Amaranth seed co2 oil which has been tested at normal manufacturing levels is safe for use on all skin types.