Black Seed Oil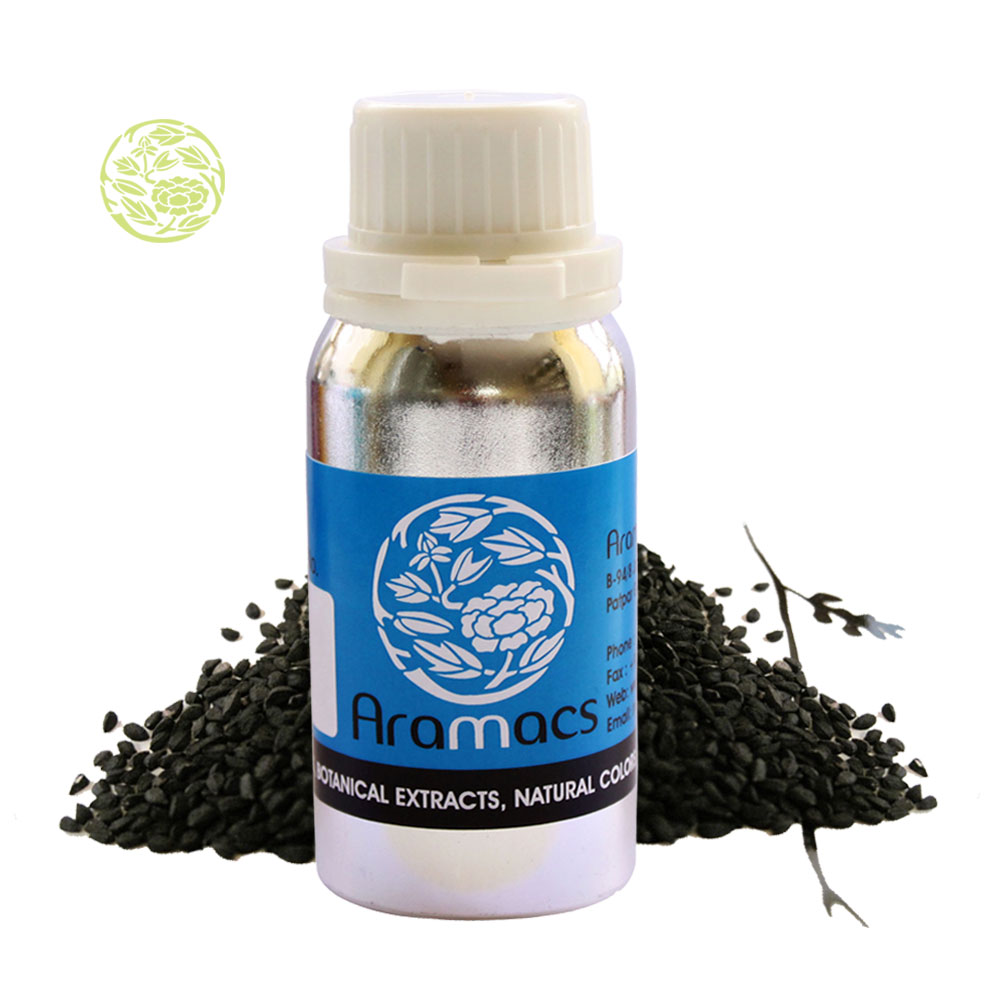 English name: Black Seed Oil
Botanical name: Nigella sativa
Introduction
Black seed oil or the black cumin oil's scientific name is Nigella sativa and the oil is extracted using the cold pressed method. The oil which originates from India is one of the healthiest oil on Earth. Black seeds contain many antioxidants, anti inflammatory, anti-cancer, pain relieving and antibacterial substances and are used from time immemorial. The mention of Black seed is done by Prophet Muhammad and he was quoted as announcing that "Black seed cures everything but death". Thymoquinone is an active constituent of the black seed oil and it is a central feature in the activation of the immune system.
Many Beneficial Ingredients
Virgin, unrefined, cold pressed black seed oil contains nearly one hundred beneficial ingredients, like essential amino acids, omega-3, Vitamin A (retinoids), and many more. Black seed oil is exceptional for mouth complaints like ulcers and inflamed gums. You just have to rinse your mouth with the oil for a couple of minutes to reduce the inflammation. By applying black seed oil to a burn it will lessen the pain and cure quickly. Black seed oil contains an anti-histamine ingredient called Nigellone, which alleviates allergies in addition to bronchial ailments. The anti-inflammatory and anti-fungal properties make this oil a brilliant remedy for a multitude of skin conditions and works effectively against skin aging.
In Cosmetic Applications
Black seed oil performs as humectants and retains water to promote a wrinkle free face. It is also good to reverse and prevent the hair from premature greying. Black seed oil is available in Africa and the Middle East apart from India and the Indian variety is the most therapeutic of them all.
Black seed oil is brilliant to add in cosmetic applications, personal care formulations, soaps, as a daily moisturizer for the face or body, hair preparations, and as a dietary supplement. Black seed Co2 oil contain high content of polyunsaturated essential fatty acids (Omega-3, -6, and -9), and a remarkable amount of vitamins and minerals.
Good for Skin
Black seed Co2 oil has the quality of softening or soothing the skin and is quickly absorbed. It is popularly used as part of a carrier oil blend to help fight infection and soothe irritation in the skin. Black seed Co2 oil should be stored in a refrigerator and used within 1-2 years of date of purchase. Depending on the kind of formulation you are purchasing the oil can be used between 2% to 100%. When using a massage oil it is better to combine 5% to 20% Black seed Co2 oil with 80% to 95% of another carrier oil, or with combinations of other carrier oils like Sunflower Oil , Jojoba Oil, Golden or Fractionated Coconut Oil. This oil is soluble in fixed oil but insoluble in alcohol.
Black seed Co2 oil has golden yellow colour and is moderately thick liquid vegetable oil. It is better to avoid using for pregnant women because of its abortive action. Black seed Co2 oil apart from using for skin treatment it has strong anti-inflammatory, antibacterial, anti viral and antifungal properties. It is widely used for the treatment of acne, psoriasis, eczema, cold sores and rheumatic problems.