Cardamom Oil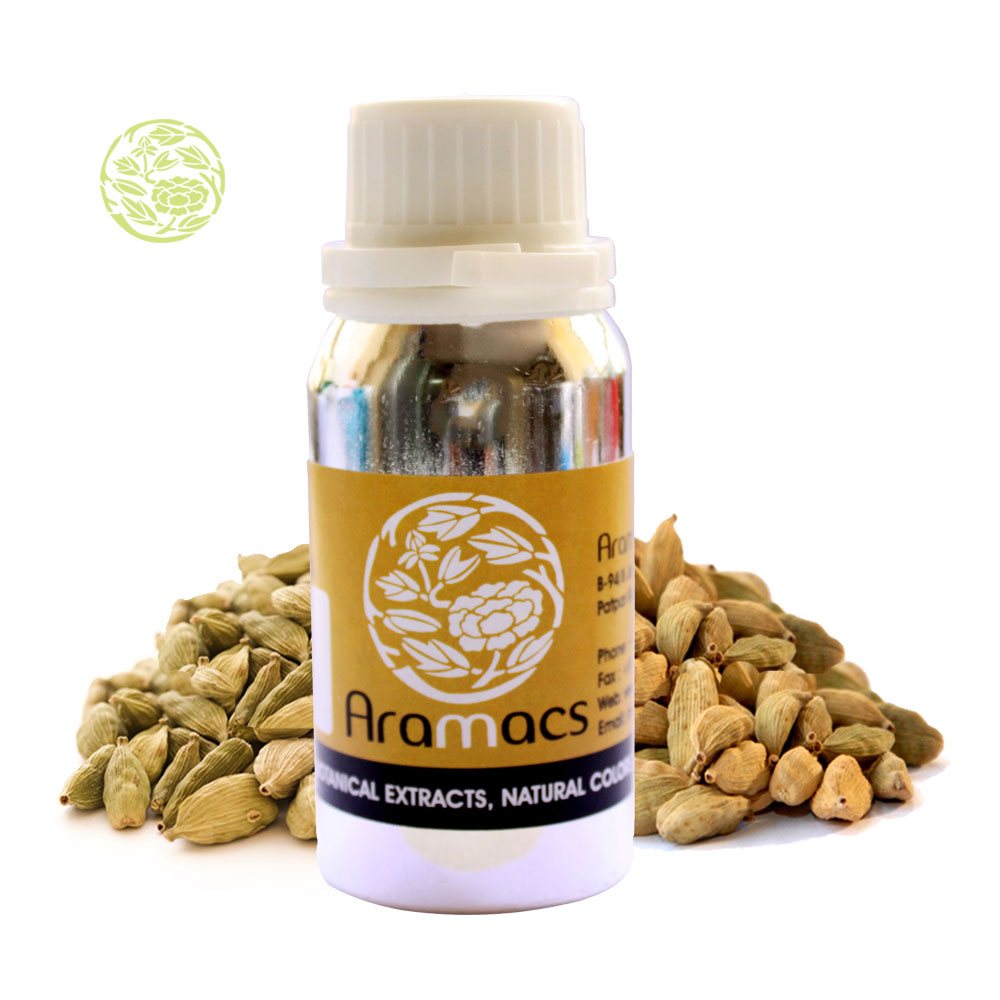 English name: Cardamom Oil
Botanical name: Elettaria cardamomum
Introduction
Cardamom Co2 is light yellow in colour and is rich with sweet and spicy aroma that of the freshly crushed cardamom seeds. Cardamom Co2 is much superior than the traditional steam distilled cardamom essential oil which has a pale colour and flat aroma. Cardamom oil is used in medicine and perfumery for ages and it is known for its aphrodisiac properties. It is widely used in cosmetics and perfumery to give that extra warm, fresh and boosting quality. Cardamom Co2 oil is the ideal choice of spice oils for use in blending essential oils. In aromatherapy it is used for digestive complaints, poor appetite, stimulating digestions, curing lung condition and mental fatigue.
Botanical Name
The botanical name of cardamom oil is elettaria cardamomum and the INCI name is elettaria cardamomum miniscula seed. Its country of origin is France and the traditional extraction method is done through steam distillation. Cardamom oil traditionally has been used as a tonic to aid the digestive system and as a constituent in many aphrodisiac blends. It is an interesting aromatic for perfumers, and is widely used in flavoured syrups for coffee and other beverages and drinks. The aroma of the oil is so cool and calm it brings calm and clarity in one's mind. The country of origin of the Cardamom Co2 oil is Guatemala and the extraction method is Supercritical Co2 method. The plant part used for extraction is the whole seed and its perfume note is middle.
Blends Well With
The aroma of Cardamom Co2 oil is warm and aromatic with a characteristic strong, spicy, sweet and balsamic scent. The oil blends well with aphrodisiac essential oils like cedarwood, rose otto and patchouli. It also blends well with other oils like black pepper, bergamot, clove, cinnamon leaf, coriander, davana, elemi, Frankincense, sweet orange, ginger, grapefruit, jasmine, lemongrass, sandalwood, lime, Ylang Ylang etc.
Cardamom Co2 oil is good for use against nausea, digestive problems, wind and heartburns. It can be used effectively as a bath oil additive and is good for colds and chills. It can be massaged onto the stomach the stomach and upper body but with a blend of carrier oil. Cardamom oil is an antiseptic, antispasmodic, carminative, cephalic, digestive, diuretic, expectorant, stimulant, tonic and stomachic. The aromatherapy use of the oil are many and is used for fatigue, colic, stress, halitosis, tonic, warming, aphrodisiac, digestion, nervousness, mental fatigue, nausea, uplifting and it boosts appetite.
Different Uses
Cardamom Co2 oil can be used in oil diffusers and potpourri as a blending ingredient for adding pure essential oil essence to massage oil, perfume, bath oil, bath salt, shower and bath gels, spa treatment oils and creams, soaps and candle. Cardamom Co2 oil is considered as a non-toxic, non-irritant and non-sensitizing oil. Cardamom as such can be used in foods by either grinding the seeds with coffee and teas or using the extracts from hydro-distillation or solvent extraction. The refractive index of the oil is 1.457-1.465 @ 25 C and the specific gravity is 0.912 to 0.941 @ 25 °C. The biochemical present in the oil are 30 – 45 % 1, 8 cineol, 30 – 45 % terpinyl acetate, and limonene, linalyl acetate, linaloöl, alpha terpineole, pinene.