Celery Seed Oil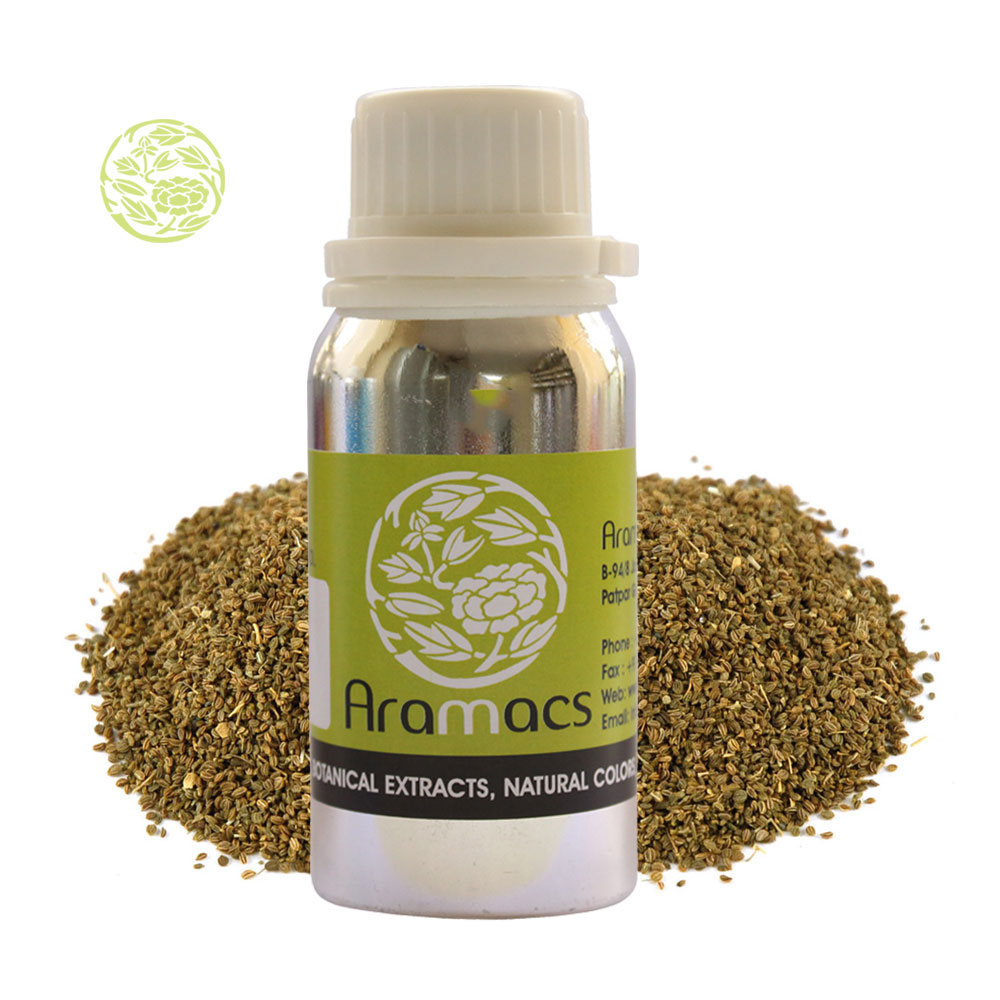 English name: Celery Seed Oil
Botanical name: Apium graveolens L
Introduction
The botanical name of Celery Co2 oil is Apium graveolens L. and its country of origin is India. The whole plant is used for the extraction of oil and this oil has a middle perfume note. It s aroma is bright, warm, herbal and that of fresh cut celery. Celery Co2 oil blends well with Angelica Root, Black Spruce, Cardamom, Caraway, Clary Sage, Copaiba Balsam, Coriander, Cypress Leaf, Douglas Fir, Frankincense sacra, Galbanum, Mandarin Red, Orange Wild, Lime Persian, May Chang (Litsea) and Scotch Pine. Celery Co2 oil is a wonderful addition in natural perfume to deliver a green sparks that enlivens and improves bouquets.
Use in Moderation
While adding with other essential oil it is better to use celery Co2 oil in moderation because it has very strong aroma which overpower other essential oil odour. The odour of the celery Co2 oil is quite obstinate and can overpower. It is not a bad idea to consider celery Co2 oil in aphrodisiac blends where it combines nicely with Cardamom. Celery Co2 oil has less limonene than the essential oil making it safer for skin applications. It is widely used in aromatherapy as calming oil which is good for the relief of tension headaches and it is an excellent anti-inflammatory in massage blends for arthritis, rheumatism, and muscle spasm relief. The combined anti-inflammatory and diuretic properties are recommended in a detoxification body wrap.
In Aromatherapy
In aromatherapy celery Co2 oil is used as an anti-inflammatory, anti-arthritic, anti-rheumatic, insomnia, muscle spasms, nervine, relaxation, aphrodisiac, carminative, detoxify, diuretic, headache, sedative and stress relief. It is widely used as a combination in massage oil, perfume, skin care, bath and body creams, lotions, gels, soap, candles and spa treatment oils. It is better to avoid during pregnancy or on breastfeeding mothers. Celery Co2 oil is extracted by supercritical fluid extraction method with natural carbon dioxide with no solvent residues or inorganic salts and it does not contain heavy metals and no reproducible microorganisms.
The celery Co2 oil contains steam volatile components and fatty oil and is popularly used in the food industry as spice for meat dishes, soups and sauces. Celery Co2 is also used in natural medicine as diureticum against bladder and kidney trouble and for treatment against inflammation. The INCI name of this oil is Apium Graveolens and the oil contains 20 – 30 % steam volatile components, fatty oil. Celery is a hapaxanthic herb, grown as a biennial or as an annual and is widely cultivated as an important garden crop and the leaf stalks are savoured as a popular vegetable.
Typical Odour
Celery seed is oval in shape and is a brown cremocarp and has a characteristic odour and a warm aromatic taste. It is used as a condiment in the flavouring of food products like soups, meats, sausages, nerve tonics and salts. Celery Co2 oil contains D-limonene, selinene and some sesquiterpene alcohols but sedanolide and sedanonic anhydride are the two ingredients mainly responsible for the characteristic odour of the oils from celery seed. Supercritical fluid extraction has gained popularity over the conventional techniques, like steam distillation and solvent extraction, in the extraction of oils, as the use of a non-toxic and volatile solvent, like CO2, guards extracts from thermal degradation and solvent defects.