Juniper Berry Oil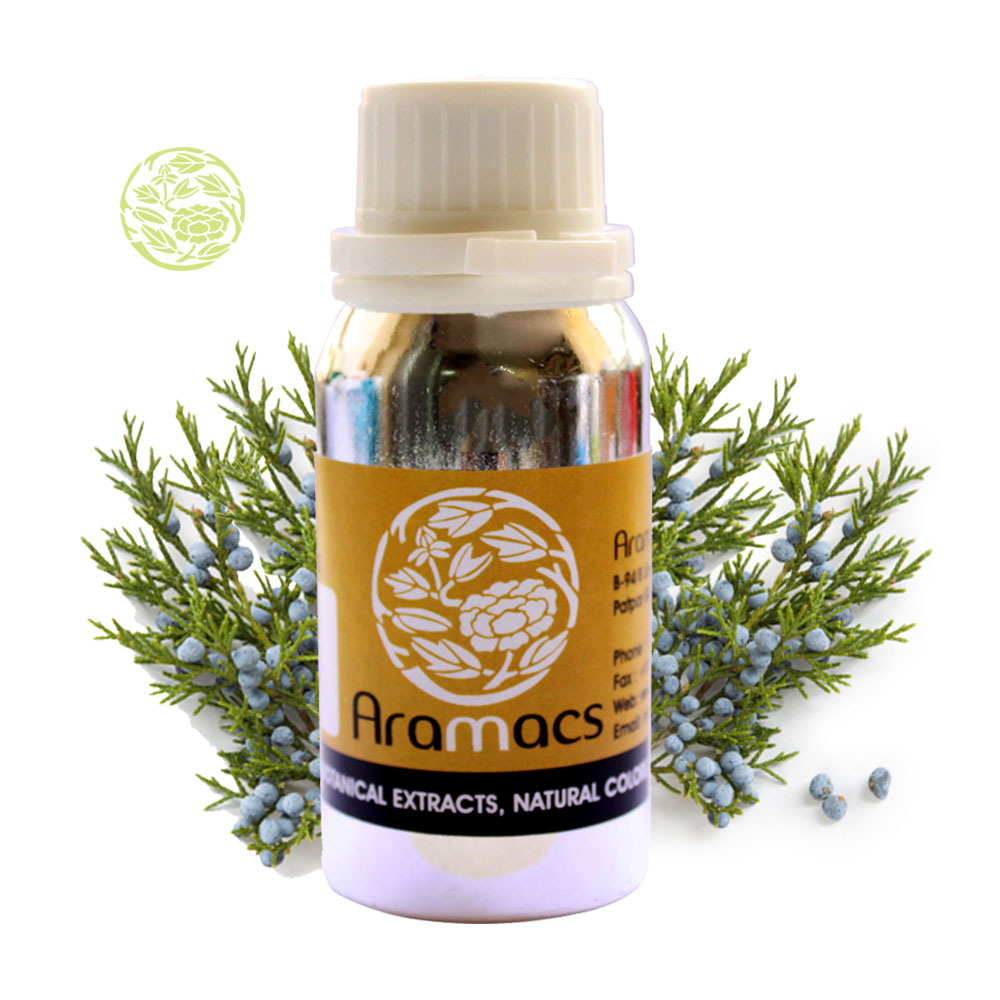 English name: Juniper Berry Oil
Botanical name: Juniperus communis L
Introduction
The botanical name of Juniper is Juniperus communis L and its country of origin is India. The extraction method is supercritical Co2 process and the oil generally has a shelf life of 4 to 5 years. The ripe berries are the part used for extraction of the oil and its perfume note is middle. It has a happy, sweet, woody, fresh, spicy, balsamic, affectionate, and real aroma of juniper berries. Juniper berry Co2 oil blends well with Cedarwood Atlas, Cypress, Elemi, Fir Needle Siberian, Lavender Bulgarian, Neroli, Sandalwood,Scotch Pine and Vetiver oils. The oil is widely used as a natural perfume and also as oil in aromatherapy.
Astringent
Juniper berry Co2 oil is an excellent astringent and is good for the treatment of acne and for oily skin types. This oil has wider range of therapeutically important compounds when compared to the steam distilled Juniper berry essential oil. It has properties which are beneficial for tackling rheumatic pain, fluid retention, detoxification, bloating, depression and stress related problems. Juniper is connected with massage blends for athletes and for people experiencing leg, feet and general muscle cramps due to physical efforts. It is used for the treatment of rheumatic problems caused during old age and also as an antiseptic and astringent.
General Uses
Juniper berry Co2 oil is also used for bloating, bronchitis, detoxifying, frigidity, jock itch, muscular pains, spasms, sprains, stress and nervous conditions. The oil is used in other general uses like massage oil, bath oil, bath salt, bath and shower gels, spa treatment oils and creams, soap making, candle making and meditation. It can be used in oil diffusers, incense, potpourri etc also. Juniperus communis which is grown widely in Sri Lanka and Indonesia has great anti-fungal, anti-viral cleansing properties and it generally boost the body, add finesse in the kitchen and is cooling and refreshing. The oil can be used as an effective deodorizer and also as flavour in foods and beverages.
Juniper berry Co2 oil improves circulation and boosts the lymph and kidneys and can be used as localised analgesic. In the botanical perfumery it has a wild note and it stimulates diuretic elimination. The Juniper berry Co2 oil is popularly used in natural perfume because of its strong and intense aroma. The oil is widely used in perfumes with masculine accords and when combined with sweet and citrusy floral notes of Neroli, Cedarwood and Vetiver it forms the backbone of many masculine and unisex perfumes. One can add a bit of the oil into club soda to create a satisfying beverage.
Way to Use
It is ideal to be massaged on the temples or over the body on a warm day and it really optimizes the lymph nodes. One can dilute the oil with other carrier oils like coconut oil and can apply it onto the athlete's foot or other fungal infection areas. By adding a few drops of the oil into a few ounces of water one can use the mixture as a lovely toner for the face. You can add a few drops of the oil on to your sponge for cleaning the kitchen and it acts as an anti-infective and cleansing agent.