Pomegranate oil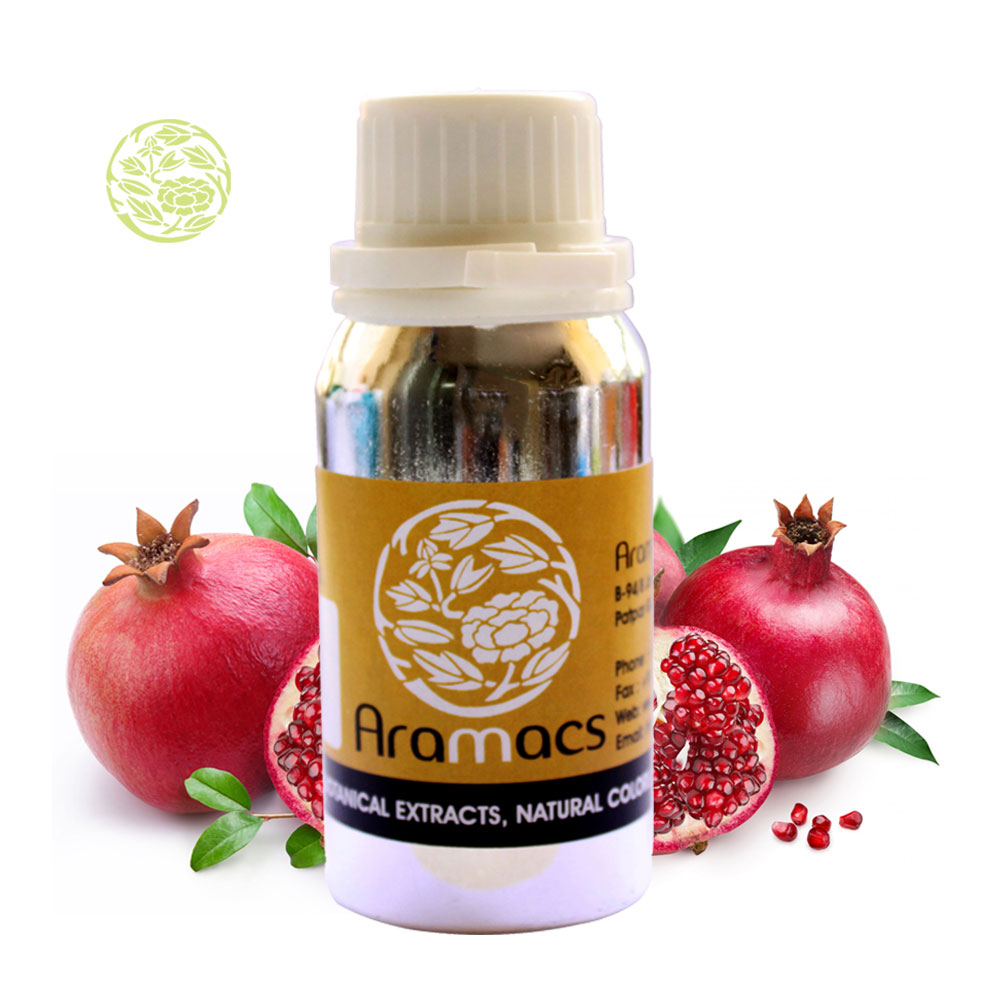 English name: Pomegranate oil
Botanical name: Punica Granatum
Introduction
The top quality pomegranate oil is extracted by the Co2 extraction process in which a solvent, liquid carbon dioxide is used. For converting carbon dioxide into liquid, both low temperatures and high pressure is used. The result is a safe and effective solvent. Without any risk of heat degradation, the solvent can be collected safely. Carbon dioxide is then allowed to return to its natural and gaseous state to leave the extracted essence of the pomegranate seed behind. The two oils that can be obtained from this extraction method are Co2 totals and Co2 selects.
In the SCFE –Super Critical Fluid Extraction process, a solvent is utilized above its critical pressure and temperature. Quality of pomegranate oil extract can be improved this way. The extract does not contain any biological and microbial contaminants or residual solvent. The oil preserves synergistic bio-activity of molecules.
Purity
Pomegranate oil belongs to the Puniacaceae botanical family and has a botanical name Punica Granatum. The oil is derived from the pomegranate fruit seeds. Co2 extraction method is used in extracting the oil.
One of the most powerful healers nature has provided is pomegranate oil. It is rich in polyunsaturated fatty acids which has a positive effect on prostate cancer, anti-cancer activity and destroys breast cancer cells. It also contains punicic acid. Ellagic acid contained in it is a natural phenol antioxidant, which helps reduce thickness of walls and reduces blood pressure. The oil has yellow color and a nice soft aroma and a hint of pomegranate. It can be used as a base for blends and pure essential oils.
Pomegranate
Benefits
Pomegranate oil is beneficial to the skin. It richness and anti oxidant properties help in improving elasticity of skin, leads to shedding of old skin cells and allows improved regeneration of skin. Longevity and health can be best improved using CO2 pomegranate oil. It has revitalizing, anti microbial and anti-inflammatory properties and works wonderfully in treating skin that is sun damaged, conditions like eczema and fine lines, improving elasticity of skin, treating wrinkles and psoriasis.
From irritated and itchy skin, it provides relief instantly. As far as effects on the body is concerned, it helps destroy cancer cells, assists cardiovascular disease, diabetes and reduces circulation of triglycerides in the blood stream. As far as spiritual effects are concerned, it stimulates prosperity and increases fertility.
Guarantee
Put 1-2 drops on intact and clean skin. A few drops can also be rubbed on the neck, temples, shoulders and wrists. Around 15 drops can be added to essential oil and massaged on any area of the body that requires healing. A few drops can be added to bath salt and dispersed. A few drops can also be added to whole milk or vodka and taken. However it is best to follow instructions of the manufacturer first before using the oil. It can be used as a spray for deodorizing the room by adding a few drops to distilled water.
This wonderful and light oil is absorbed by the skin quickly. The faint aroma it leaves behind brings to mind melted cooking chocolate. A blend of seabuckthorn berry extract and pomegranate seed extract can have a synergetic effect in skincare.