Roasted Coffee Oil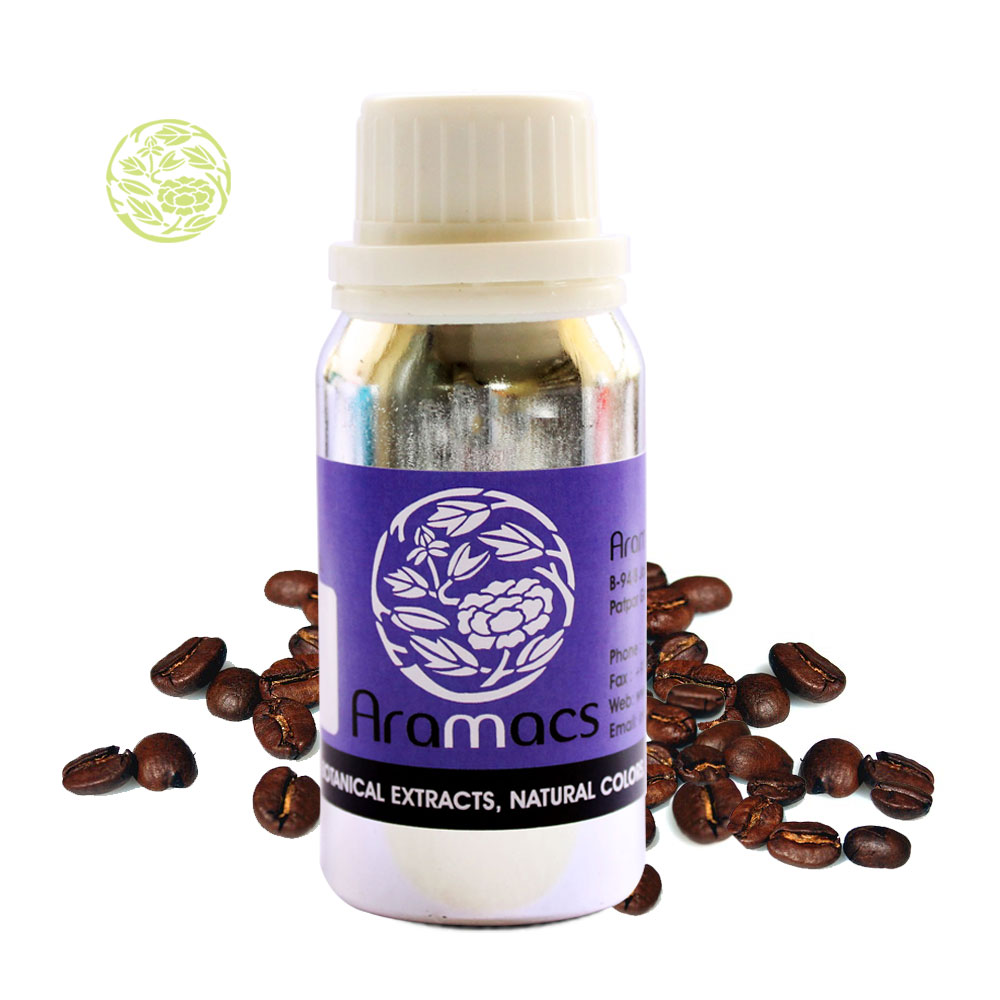 English name: Roasted Coffee Oil
Botanical name: Arabica coffee
Introduction
Roasted coffee oil is obtained from roasted coffee beans known as coffea Arabica. The SCFE Co2 supercritical extraction method is used for extracting the roasted coffee oil. The roasting procedure helps release, caramelize and emulsify the starches, fats and sugars present in the coffee beans. The extraction process creates delicate roasted coffee oil. The oil has distinctive taste and aroma. Top quality oil can be extracted from coffee beans of good origin that have been roasted well.
Purity
Roasted coffee oil is slightly viscous, dark brown in color, with thick to medium consistency, rich, strong aroma and smoky undertones. The oil gets its characteristics from the roasted coffee beans. It contains phytosterols, essential fatty acids, caffeine and antioxidants.
It makes a great blend with a number of other essential oils like petit grain, ylang ylang, rose, sandalwood, patchouli, vetiver, ambrette seed, vanilla, amyris labdanum, lavender, balsam of peru, ginger, cocao, jasmine, clove and black pepper. It has an invigorating and warming fragrance just like fresh coffee brewed in a pot.
Roasted Coffee Benefits
Roasted coffee oil is enriched with phytosterols which help in promoting excellent retention of moisture, good adherence and better penetration within cosmetic applications. Aromatic and chemical composition of the beans changes due to the roasting process. Composition of essential fatty acids in the oil is also high.
Pure roasted coffee oil is well known for its herbaceous aroma, highly moisturizing nature, quick absorption, medium to light texture and rich sterol content. It is one ingredient that is highly recommended in the making of products for treating, brittle, dry, cracked and damaged skin, aging skin, skin conditions like psoriasis and eczema, damaged, brittle and dry hair and in lip care.
Other Benefits
People suffering from epilepsy or heart disease should also avoid it as it could cause palpitations in the heart. It is rich in caffeine and useful in making anti cellulite products for body care. Due to its non irritating, non toxic and safe properties, it is used in the making of cosmetics.
Roasted coffee oil proves to be an excellent antioxidant and helps fight fever, depressions, stings, respiratory issues and general nausea. For culinary purposes, it is used for flavoring and as a food additive and combined to make different kinds of beverages. Roasted coffee oil is used for rubbing on the body, inhaling and infusion purposes. It is used in the making of medicinal supplements and added to syrups too. It is extensively used in making lip balms, body care, skin care and anti aging products.
Guarantee
It is best to use roasted coffee oil in diluted form. People with sensitive skins should perform a patch test before using it. It must not be used without testing its sensitivity first as it could cause allergic reactions in some people. Children, pregnant and breast feeding women and those suffering from kidney or liver diseases should avoid taking this essential oil.