Rosemary Oil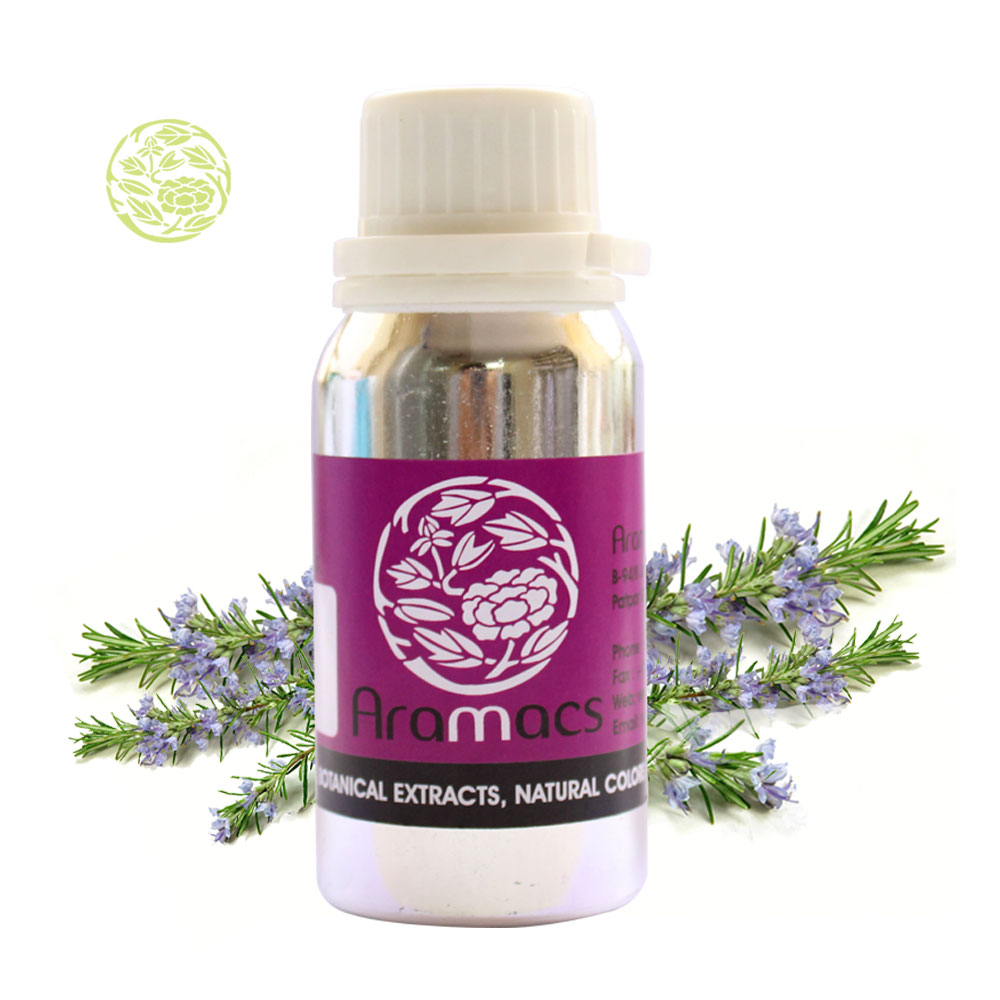 English name: Rosemary Oil
Botanical name: Rosmarinus officinalis
Introduction
Rosemary oil is an essential oil derived from rosemary leaves. Rosemary is better known as Rosmarinus Officinalis and belongs to the mint family. Over the years it has gained immense importance. The oil gained more popularity mainly in the 16th century due to a Swiss-German botanist and physician called Paracelsus.
He recognized its value of strengthening the whole body and healing delicate organs of the body including the heart, brain and liver. As of today it is extracted by the popular SCFE Co2 – supercritical extraction method for making medicinal preparations.
Purity
Constituents of rosemary oil include bornyl acetate, cineole, thujone, camphor, pinene, borneol, linalool, limonene, camphene, terpinen-4-ol, alpha-terpineol and beta-caryophyllene.
Benefits
Rosemary oil has health benefits in a wide array. It has the ability of reducing pain, boosting mental activity, stimulating growth of hair and relieving respiratory related issues. Since ancient times it has been widely used. Special importance was given to it by the Romans and used in religious and wedding ceremonies, herbal and cosmetic care and preparing food frequently. The Egyptian civilization also used the oil during the ancient times.
Rosemary
It helps in relieving cramps in the stomach, bloating, flatulence, constipation, dyspepsia symptoms, liver detoxification, stimulates appetite and aids digestion. It also regulates creation of bile which is a vital digestive process, improves circulation and stimulates flow of blood. It helps in aiding digestion of pork, beef and lamb. It boosts mental activity and immune system, provides relief from stress, respiratory issues and pain, reducing effects of sexually transmitted diseases. In aromatherapy, it is used in perfumes, room fresheners, bath oil, cosmetics, candles and beauty aids.
Other Benefits
As far as hair care is concerned, it is used in making hair lotions and shampoos. It removes dandruff and nourishes the scalp when massaged into the hair. Hair follicles get stimulated with its use and makes it grow stronger and longer, slowing down graying of hair and premature loss of hair. For bald individuals it is an excellent tonic to reduce baldness. A blend of basil oil and tea tree oil can be used to treat scalp related issues. A blend of olive oil and rosemary oil is used as hot oil treatment to strengthen and darken hair. Flaky and dry skins can be treated with regular rosemary oil massage.
It is a good disinfectant and used as mouthwash, removing bad breath and bacteria and preventing plague build up, cavities, gingivitis and other conditions that can damage teeth. In skin care, it is beneficial in eliminating acne, oily skin, dermatitis, dryness, eczema, creating a glow and toning the skin. In many of the body creams and moisturizers it is used as a main component.
Guarantee
Rosemary oil can cause allergic reactions and hence should be prescribed only after consulting a good healthcare professional. Due to its volatile nature it could cause spasms and vomiting and hence its ingestion should be avoided. Avoiding excessive use of rosemary oil is best. Nursing, breastfeeding and pregnant women should not take this oil.